LPEX 01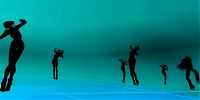 La Performance Exhibition – 01
May 2011 – September 2011
We show you 17 photographies by Pia Klaar, Zap Zhong and Jie Loon.
All have been shot during live-performances and live-rehearsals of dances of current show 'ROMANCE' by La Performance.
All three photographers try to catch the mood of the dances and the moving of the dancers and to transport this 'living impression' – and at last … perhaps a small bit of the music that we all try to interpret here.
Therefore you will find in each description of the pics the danced song too — and a link where you can find the playbill of the dance – and the lyrics of the song.
The opening of LPEX 01 took place on May 1st, 2011 with a live dance-performance in the Experimental Area of La Performance. 9 dancers tried to show an impression of the finale of upcoming show 'BORN'.
LPEX

01 is presented on three levels:
Level I
… is situated in the 'Construction Area of La Performance' – here the sets of stage for the different dances are built. – Here you receive the 'welcome' and a catalogue-note with name, number and locations of the exposed pics.
Level II
You traverse a 'bridge' to come to Level II – with 2 tops.
Level
III
You use a 'snake-stair' to go up to level III – with 3 tops.
On a big screen you can watch here machinima of dances of show 'ROMANCE' too.
You will find some transparent 'surprises' … and a longue to sit together and discuss or relax:)
Level III opens to top of balcony of our ballet-theatre-stage.
How to get pictures
As we all do La Performance for fun – there is no business in it.
So we dont sell pictures of our Exhibitions – but – if you like this or that and want to have … please touch these pics — you will receive detailed info AND a texture that you can use as you like.