LPEX 02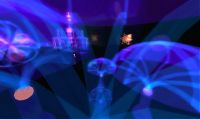 La Performance Exhibition – 02
September 2011 – March 2012
We show you:
2.) City of Lights – the original light-objects by Leeon Zhaoying in a 3D-installation with huge snapshots of La Performance-show 'Romance' taken life during show on stage
In seeing first pictures you will create in your mind an impression of the light-objects through the sight of the photographer – when you enter the 3D-installation you will be able to choose your own sight. We believe this might be a very special and interesting experience.
The light-objects show simple and clear forms and impressive colors.
Their 3D-installation will give you wide room to walk around, you will find yourself within a nice positive surrounding to stay with a friend (you will find fitting couple-dances too).
As La Performance tries to transport positive mood by music and dancing .. this might be the visual side of the same … by lights, colors, forms and room.
You will find the pictures on three levels … on level III you enter the 'City of Lights'.
On Level I we invite you take a glass of champagne (if you want – there is the possibility to bathe in champagne too:) – at level III you will find a corner beside the ballet theatre of La Performance to relax a bit before you go over into the City of Lights – have fun:)
Jie Loon
Leeon Zhaoying