STAY !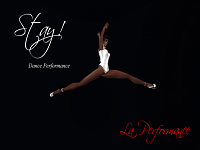 Virtual Dance Performance
Start rehearsals October 16th, 2015
PREMIERE

December 13th 2015
performances on Sundays 2.30 pm PST:
January 17th 2016
January 24th 2016
January 31th 2016
February 7th 2016
February 14th 2016 – LAST
We dance:
Amy Winehouse – 'You Know I'm No Good'
Norah Jones – 'Cold Cold Heart'
Zucchero – 'Baila Morena'
Nouvelle Vague – 'In A Manner Of Speaking'
Rihanna – 'Stay' ft. Mikky Ekko
Queen – 'Bohemian Rhapsody'
Giacinto Scelsi – 'Ave Maria' – sung by

REIS

Soap & Skin – 'Meltdown'
Soap & Skin – 'Marche Funèbre'
Giacinto Scelsi – 'Ave Maria for Violoncello solo' – Frances-Marie Uitti
++++++++++
La Performance – Virtual Dance Performance '
STAY

!'
Virtual choreography by Jie Loon
In the first part we present five dances with interpretation of music
by Amy Winehouse, Norah Jones, Zucchero, Nouvelle Vague and Rihanna.
Each dance can stand alone – but they hold together by atmosphere of music and the set …
In the second part we present six pieces to music by Queen, Ciacinto Scelsi and Soap & Skin. These pieces hold together by interpretation of dance-performance in this understanding:
Theme are the lyrics of 'Bohemian Rhapsody' by Queen – Mama:
Mama, just killed a man
Put a gun against his head
Pulled my trigger, now he's dead
Mama, life had just begun
But now I've gone and thrown it all away
Mama, ooo
Didn't mean to make you cry
If I'm not back again this time tomorrow
Carry on, carry on, as if nothing really matters
Too late, my time has come
Sends shivers down my spine
Body's aching all the time
Goodbye everybody I've got to go
Gotta leave you all behind and face the truth
Mama, ooo (anyway the wind blows)
I don't want to die
I sometimes wish I'd never been born at all
… a moving song by Freddy Mercury.
we are following the young man's biography now …
and hear the mothers prayers for her son in the
Ave Maria by Ciacinto Scelsi – sung by REIS
we follow him in his total break-down in
'Meltdown' by Soap & Skin
and hear the painful out-cry of his broken soul in
'Marche Funèbre' by Soap & Skin
gone through this he does find to his own prayer in
Ave Maria by Ciacinto Scelsi – now in the original version
for Violoncello solo – played by Frances-Marie Uitti
coming back to his confession to his mother in 'Mama'
we find in the mood of the interpretation now the hope
and perhaps the possibility for him – to stay – to stay in life.
Jie
++++++++++
Performing artists
Master of Ceremonies
Choreography
Production leaders
Music stream
Costumes